Are you waiting for the printed NIOS study material? I know you are waiting for a long time.
You should check why the NIOS admission status is not confirmed before going to the major topic.
The National Institute of Open Schooling runs various courses, including secondary and senior secondary for distance learners, to help them achieve better results and help students learn more.
Students who want to prepare for their final exams should look for NIOS study material. This page makes it easy for you to get free NIOS books for class 10 and 12 in Hindi/English.
The NIOS textbooks will show you how to study for your exams correctly. We all know that tutoring and coaching are just ways to achieve the goal and that teachers and mentors are very important. The best books for the open board are the most important things for better preparation. On this page, you can find the best NIOS books in PDF for 2023.
Candidates can study from home through the National Institute of Open Schooling. NIOS PDF books are all that candidates need to do. They don't have to go to regular classes or sit there.
The Courses Offered by NIOS board
NIOS offers these courses:
The Open Basic Education (OBE) program has three levels which are:
Class I-III are the same as OBE Level A.
The OBE Level B is the same as Class IV-V.
OBE Level C is equivalent to Class VI-VIII Secondary Course, which is like Class X Senior Secondary Course, which is like Class XII Vocational Education Diploma in Elementary Education (DELED) for Untrained Teachers Life Enrichment Life Skills Program
How do I get NIOS study material class 10 & 12 online
First, go to www.nios.ac.in, which is the official site.
Follow the "main menu" section from the home page and click on the "study material" under the learner's corner.
A new page with various options will appear. You need to click the 10th and 12th course.
Choose your course, either Senior Secondary or Secondary.
Once you click, a new page will unlock with a list of Courses links, such as Topic/online files, Video Links, and YouTube Links (Sign Language)
Choose the course for which you want to get the study materials.
A new page will show the online links.
Get the digital copy of the Material and print it out.
How to get NIOS books in printed format quickly
login into https://sdmis.nios.ac.in
Click on submit Book Received Response under study material option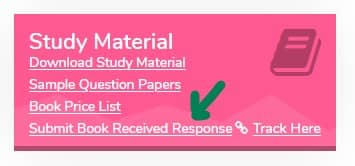 Select Books not received

Submit
Note: The above method may not work every time, but you can try once.
How to get free NIOS DELED books?
Go to the official site.
Use the menu bar to find the Programs tab.
There will be a drop-down list in front of your computer screen.
Click on the link that says DELED (Diploma in Elementary Education).
You should click the DELED Study Material link in a new window.
Choose the right link to get NIOS DELED Study Material in a different format.
Soft copy Material can be saved and printed out for future use.
Where can I buy NIOS study material? for class 10 & 12
Go to the NIOS website.
Go to the Department/Units Section from the home page.
Material Production, Dispatch, and Distribution should be chosen from the drop-down menu.
There will be a new page with different links.
Click on the price List of Study Materials for Secondary and Senior Secondary Courses (30 KB) link.
You'll find the book prices and application form on the next screen.
Check the price, and then you can get it.
Fill it out, put it in an envelope with a demand draft made out to "Secretary, NIOS, NOIDA," and send it to the Institution Address.
How to track NIOS study material?
Do you know you can track the book's status without login to the dashboard?
Do you know you can track the book's status without login to the dashboard?
Open the admission status page
Enter your email/ reference number/enrollment no
Click on submit
Scroll down and copy Book Tracking No
Open India Post official website and track your consignment.
Types of Study Materials for learner
With the improvement of facilities, candidates now have two ways to get their study materials. They can either get their NIOS Study Material For Secondary or Senior Secondary from the official website or order their hard copy Class 10/and Class 12 through the post.
Here on amazon website, in the section above, we have the link for NIOS guide books in English/Hindi. Candidates can order their learning material with the help of the instructions and postal address, and they can get their reference books by post.
NIOS books not received?
There may be various reasons for delays in sending study material, including logistical issues, resource constraints, or other reasons.
NIOS board is a largest open board that serves many students, and they may face challenges in delivering study materials to students on time.
If you are not getting study materials, reach out to your regional office to inquire about the status of your materials and any potential delays. They can give you more specific information and help.
Conclusion
To learn more about learning material, you can also visit the National Institute of Open Schooling's official website. If you want to maintain this NIOS Study Material install safe page, you can add it to your bookmarker by pressing CTRL+D on your keyboard.