Admission date has been over, but the late fee admission is going on for the October 2023 examination. I know you are searching for how to check NIOS admission status online?
Whenever you check the application status, you receive document verification in progress, document required, submission pending, or any other comment on the dashboard.
Do you know why this happens? It might be because of some technical error.
Let's discuss how to check NIOS online admission status along with how to make your application confirm.
How to check NIOS Admission Status online
The management has set up an online portal for fresh admission, where candidates can upload scan copies of original documents. We do not need to send the document to the RC office while doing online admission.
Getting NIOS registration status is one of the most important parts.
I will provide you with the step-by-step NIOS Admission Status checking process.
After paying the online application fee, most of the students believe they have confirmed their application, but it's wrong.
You have just submitted the form, but it's not verified by official management, so you will not get the confirmation until the board verifies your documents.
Let's discuss the main point.
Top 3 ways we can check NIOS online admission status
You should know before applying for admission, it takes time to approve an NIOS admission status. If they find your document filled data is ok, then you will receive your confirmation from the dashboard.
Reference number
Email id
Enrollment number
How to check NIOS admission status by reference number
NIOS admission status check by reference no is very easy you can find your details within a minutes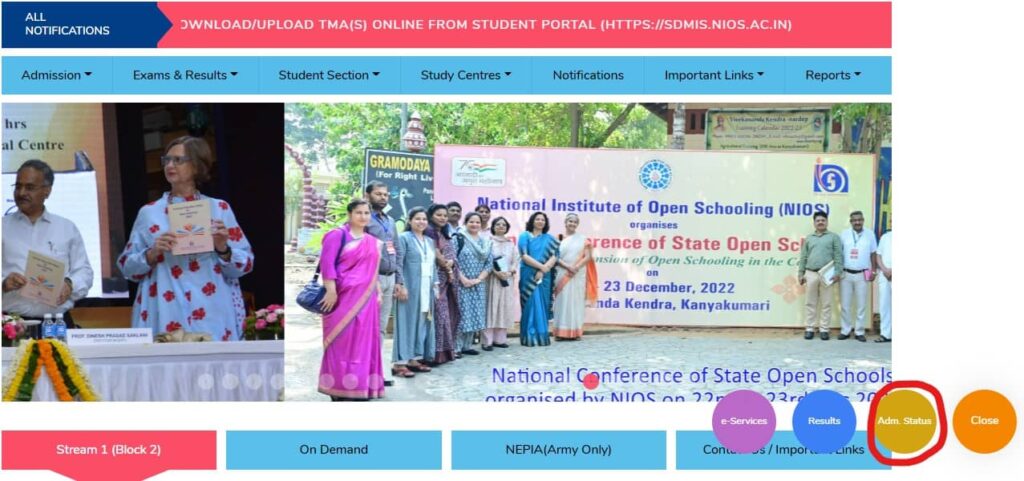 Click on right-hand side menu option
Click on admission status.
Enter reference number or email id
Click on submit button
Now you will have your application details on screen.
We can also check NIOS admission status by login into student dashboard
Open the homepage
Click on the student login
Click on login via reference number or enrollment number
Enter your reference number and date of birth.
Click on login button
Once your user Id and password are correct, you'll see NIOS Admission Status under your application Status tab. Here, you can find out your application status. If you find status showing confirmed, then you can get an enrollment number along with an ID card.
Note-While verifying the admission status, the system shows 404 error, in that case you need to login via your username and password that you received on your email.
What to do after Submitting NIOS Online Admission Form
Whenever you submit the online form, the NIOS login dashboard gives you the right to view online submitted admission forms. This preview shows the filled application form and what details uploads on the dashboard.
After submitting online form, you require a few other works to ensure your admission doesn't get cancelled, so you will require checking your dashboard regularly if you find any discrepancy, then try to remove ASAP.
Why has my NIOS admission not been confirmed?
I know you have some questions I had applied to 1 month ago but still my application is not confirmed?
Why is my status showing submission pending?
You might see a status & regional center comment:
"Verification process is going on."
Why is NIOS online admission status showing submission pending?
Sometimes students do not submit forms completely, so these types of errors appear on admission status.
In other cases, payment deducted from the account but the status is showing submission pending.
Do you know why?
It might be payment of gateway error.
If the payment status is showing consumed, no need to worry.
Top 13 Reason NIOS online admission status not confirmed
Let's quickly look at some of the most common mistakes by new learners while uploading their document that can cause admission pending. You can solve discrepancy by using NIOS student portal.
1. Document Required (Not submitted the required document needs to upload more)
2. Specimen signature not found (upload your signature)
3. Upload your document in .jpg/png format only (Sometime student submit pdf document so this error show)
4. Upload your complete AADHAR (Upload your complete AADHAR card, including address details to confirm NIOS admission status)
5. We should upload only the passport size picture (Don't upload any selfie or other image format)
6. Upload your correct address proof. (Mismatch of your address mentioned by you in the online form with your uploaded address proof)
7. Your uploaded Birth Certificate has tampered (You need to send your original Birth Certificate to the regional office)
8. Upload the scanned image of your previous failed Mark-sheet of the parent board. (if you have opted for TOC, then you have to upload the original failed mark sheet)
9. The document is not readable (scan it properly and re-upload)
10. Some of the subject (s) which you have chosen are not available in Bengali Medium. (You need to select Bengali medium available subjects else you need to change the subjects)
11. To avail the TOC facility, submit your original fail mark sheet of parent board to the NIOS Regional Centre
12.Pay your short fees (If you have selected the wrong subject combination while transferring subjects, you may get the error)
13. Please upload your 12th fail mark sheet or admit issued by the board. (We mostly identified this problem in On demand registration.)
You need to upload an admit card from the parent board else your NIOS admission status will not be confirmed.
Things to do after Getting NIOS admission status confirm
After receiving confirmation email, NIOS students can login with enrollment no and perform the below steps.
1. Download your ID card
2. Send your original failed mark sheet to the RC office or headquarter (Applicable only for TOC)
3. Solve your TMA (Assignment) questions paper
4. Contact your study center for PCP classes.
NIOS study material
As we know, the delivery system of NIOS study material is very poor, mostly students receive it after 2-3 months.
Don't wait for the printed study material, download your books in PDF format from the official website and start learning or if you want tuition classes, then join Ansari Institute.
Conclusion
I have seen most students submit their Mark-sheet, which is not clearly visible, so that is another reason for the discrepancy. So I advise you don't upload any hazy documents. It is better for you to scan your original document from the scanner and then upload it on the dashboard.
If you need any help about NIOS admission status, you can ask me in the comment section and don't forget to share this tutorial with other NIOS students.